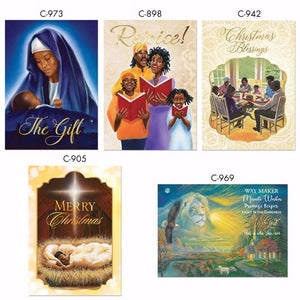 "Way Maker" Christmas Card Assortment
• Size 5" x 7" / 5 designs / 15 cards and envelopes per box
• Inscriptions:
C-898: This is the day that the Lord has made; let us rejoice and be especially glad in it! Have a Merry Christmas and a blessed New Year!
C-905: Remember the night our Savior was born, The stars lit up the skies. The angels sang, The shepherds came, To see the newborn King. May the joy and blessedness of that holy night fill your heart and home! Merry Christmas and Happy New Year!
C-942: The time of year when family is near We cherish the moments we hold so dear Memories created as Christ is celebrated. Merry Christmas!
C-969: Behold! The Lamb of God who takes away the sin of the world! Have a merry Christmas and a blessed New Year!
C-973: He stepped out of time to number our days. He stepped into darkness to brighten our ways. He left all He knew to make Himself known. He's God precious gift, straight from the throne. Merry Christmas!