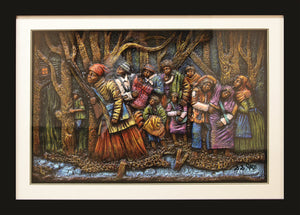 Harriet Tubman Relief Art by Darlington Dike Ike (D.D. Ike)
This beautiful piece of art is by well-known Black artist D.D. Ike. He has created an emotional and touching homage to Harriet Tubman and her work on the Underground Railroad. This large wall relief art piece is dramatic and touching, as it shows the pain and suffering but also the hope and love that Harriet Tubman experienced as she worked tirelessly to free slaves.
Harriet Tubman is a true African American Legend. Born into slavery in the south in the early 1800s, Harriet Tubman decided early on that she wasn't going to spend her life as a slave to others. She managed to escape from her chains and dedicated her life to helping others do the same.
Instrumental on the Underground Railroad, the well-organized network of people and transportation that helped countless slaves break away from their captors and discover true freedom, Tubman would return to the south time and time again despite the risk of being recaptured.
D.D. Ike took inspiration from this amazing woman in creating his relief art. This piece is a mix of darkness and colors, shadows and light, and the result is a powerful mix of emotions. You can see the tense faces of the characters as they follow the courageous Tubman, but you can also imagine the hope and excitement they felt as she led them on toward the freedom they deserved.
This large 39" x 29" framed picture is created in the relief style, giving it real depth and presence. It's a welcome addition to any home's décor, be it in your living room, dining room or any other room in your home where you want to be reminded of the life of the incomparable Harriet Tubman and her dedication to the important work of the Underground Railroad.