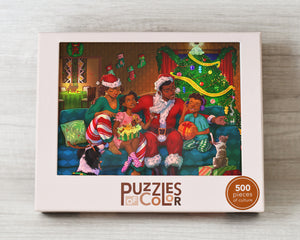 "Comfort & Joy" Puzzle
Puzzles improve IQ. Puzzles increase dopamine. Puzzles are art that you make.  Puzzles decrease stress.  Chill...do a puzzle.
The Most Wonderful Time of the Year!  It's early Christmas morning and the excited kids are awake before the sun! The family gathers around the tree, with Dad dressed as Santa to hand out gifts and Mom beaming with pride at the joy in their children's eyes. The memories made of family time over the season will be cherished for years to come.  Have yourself A Merry Little Christmas, and Happy Kwanzaa!
Art by Paul Kellam 
Pieces: 500
Puzzle Size: 16x20 in
Box Size: 10x8x2 in
NOTE:  Each puzzle comes with a black net that can hold your puzzle as you work on it or you can roll up the puzzle for safekeeping and frame it at a later date.
Made with 100% recyclable materials.