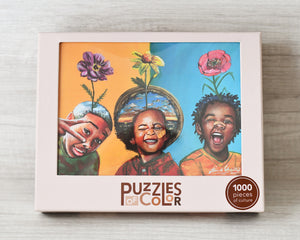 "Black Boy Joy" Puzzle
Puzzles improve IQ. Puzzles increase dopamine. Puzzles are art that you make.  Puzzles decrease stress.  Chill...do a puzzle.
In the midst of a world that is against you and all the scars that are marked for your complexion you keep smiling little black boys. You keep being amazing, resilient and optimistic! It will take you farther than any person who's ignorance plans to draw you astray.
Art by Lja Charles
Pieces: 1000
Puzzle Size: 20x27 in
Box  Size: 10x8x2 in
NOTE:  Each puzzle comes with a black net that can hold your puzzle as you work on it or you can roll up the puzzle for safekeeping and frame it at a later date.
Made with 100% recyclable materials.