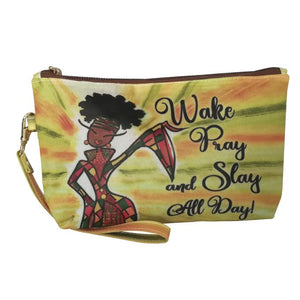 Cosmetic Bag- Wake Pray and Slay All Day!
Water resistant material, fashionable storage bag, durable, attractive for home, gym, or travel.Use for cosmetics, as a wristlet mini-purse, toiletries, at the gym or to organize.Includes zipper closure and matching wrist band. Perfect size for mascara, lipstick, pens, pencils, sunglasses, and other small items
Designed to meet your everyday needs!
Size: 9 x 2 x 5 H