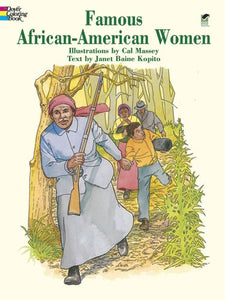 Famous African American Women Coloring Book
The contributions of African-American women to education, civil rights, government, literature, the performing arts, athletics, and other areas are documented in this carefully rendered coloring book. Forty-five illustrations portray activist Coretta Scott King, educator Mary McLeod Bethune, actresses Hattie McDaniel and Ethel Waters, singers Marian Anderson and Ella Fitzgerald, writers Maya Angelou and Zora Neale Hurston, athletes Althea Gibson and Wilma Rudolph, as well as: Sojourner Truth; Phillis Wheatley; Oprah Winfrey; Toni Morrison; Whitney Houston; Shirley Chisholm; Leontyne Price; Jackie Joyner-Kersee; Rosa Parks; and 26 other notable figures.
Informative captions highlight the remarkable achievements of these women.