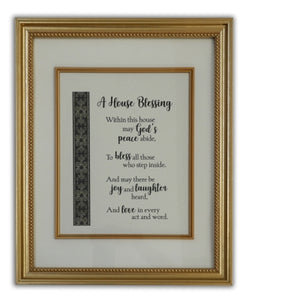 House Blessing Wall Plaque
There is a long tradition of house blessing in Christianity and also in African American culture.  Typically the local Pastor would come by and have dinner with the family and bless the house.  It is a way to give thanks and dedicate the blessing of the home to the uplifting of God's kingdom.  And to remind each other that our home should be a sacred space, filled with life and meaning.
This gold framed house blessing is a thoughtful gift for new homeowners.
Size: 16" X 12.75"