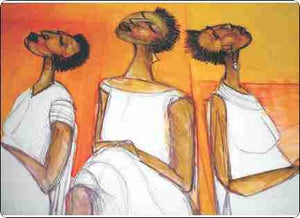 In Thought Cutting Board
Functional Art!  Use as a cutting board or store the cutting boards in an upright position to show off the board's beauty as an artistic addition to any kitchen or wet bar area or use as a unique serving platter for hors d'oeuvres.
Measurements: 11" x 8" / Check out the Twisted Black Wire Stand - 4" - display it as a piece of art!

This cutting board is made of tempered glass that resists stains, odors, and bacteria can also be used as a hot plate trivet.  Use for all of your gourmet and everyday cooking needs: As a cutting surface or to prevent hot dishes from burning kitchen counters and tabletops.  The rubber feet prevent slipping on the countertop.