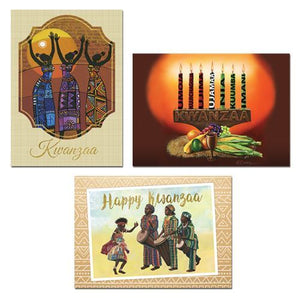 Kwanzaa Card Assortment
15 embossed and foil-stamped cards per box with envelopes / 3 styles / 5 of each design / size 5" X 7"  
Inscriptions on the inside of the cards:

K-916: May the spirit of Kwanzaa fill your heart. Bringing peace to the past, prosperity for today and bright hope for tomorrow. Kwanzaa Blessings!
K-918: May your heart be filled with light as we celebrate the rich Kwanzaa heritage and principles. Let us take the time to share love and laughter for generations to come. Happy Kwanzaa!
K-919: May the spirit of Kwanzaa revive and strengthen you as you journey down the path according to the valuable principles of the season. Happy Kwanzaa!