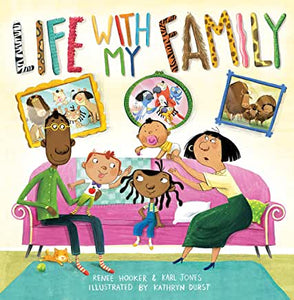 Life with my Family by Renee Hooker and Karl Jones (HC)
From New York Times Best-Selling illustrator, Kathryn Durst and Penguin Workshop editors and authors, Renee Hooker and Karl Jones comes a tale of a young girl who imagines her family as a pandemonium of parrots, a swarm of bees, a smack of jellyfish, a wisdom of wombats, and more!
When a young girl gets frustrated with her chaotic life at home, she imagines what things would be like if her family were animals instead. Would life be better as a pod of pelicans, a pride of lions, or a herd of buffalo? Or is it ultimately a family of humans that she needs? In this beautifully illustrated book, young readers learn the names for groups of animals through a sweet, whimsical narrative that focuses on the importance of family.