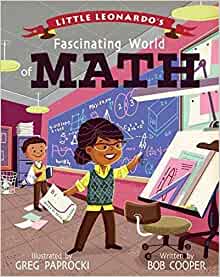 Little Leonardos Fascinating World of Math by Bob Cooper
Math is the basic foundation upon which most of the other areas of STEAM rely. If a child aspires to be a scientist or an engineer or an architect, they need to first understand math. Little Leonardo's Fascinating World of Math introduces many mathematical concepts in a context showing their interconnectedness with so many of the things in our everyday lives.
This new series of books featuring illustrations by popular artist Greg Paprocki is the perfect way to encourage your brilliant child's interest in all facets of the educational STEAM curriculum: Science, Technology, Engineering, the Arts, and Mathematics. Your child will be enticed by the fun and surprising details revealed in Paprocki's cool and colorful artwork on every page.
Greg Paprocki works full-time as an illustrator and book designer. He has illustrated several Curious George books, as well as The Big Book of Superheroes for Gibbs Smith. He began his career as an advertising art director after studying fine art and graphic design at the University of Nebraska. He lives in Omaha, Nebraska.