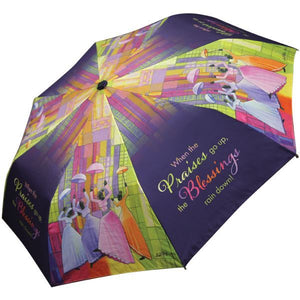 Praises Go Up! Umbrella
Why choose a plain umbrella when you can have a unique and original African American umbrella that shows off your pride in our community?
Our Afrocentric umbrellas open to a large 38" arc, giving you greater protection from the rain and open with a touch of a button. Much like any umbrella, we recommend using our umbrella in winds less than 25 mph, but who wants to be in crazy weather like that anyway! We also carry a whole host of other fashion items and accessories, so you can mix and match multiple items to create a truly unique and fashionable look. Start by choosing the right umbrella and complement it with a tote, wallet or other African American-inspired items.
Unique and stylish umbrellas decorated with black and inspirational phrases.