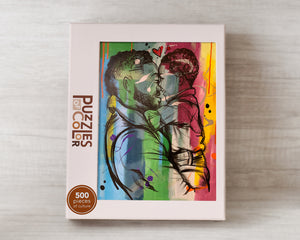 "Priceless" Puzzle
Puzzles improve IQ. Puzzles increase dopamine. Puzzles are art that you make.  Puzzles decrease stress.  Chill...do a puzzle.
This piece was inspired by an actual photograph of the artist and son. It was recreated to represent a bond and love between child and parent/guardian no matter the gender...It can also symbolize the love for those that are no longer with us, but here in spirit️...this is called this one "Priceless"
Art by Melrick Steele 
Pieces: 500
Puzzle Size: 16x20 in
Box Size: 10x8x2 in
NOTE:  Each puzzle comes with a black net that can hold your puzzle as you work on it or you can roll up the puzzle for safekeeping and frame it at a later date.
Made with 100% recyclable materials.