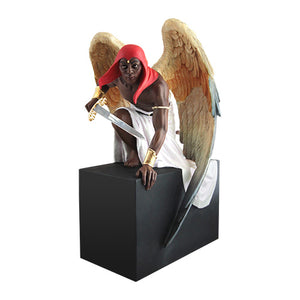 Ready For Battle by Thomas Blackshear
Born in Waco, Texas and raised in Atlanta, Georgia, celebrated artist and illustrator, Thomas Blackshear II displayed an affinity for the arts at an early age.  His unique aptitude in drawing and painting earned him a scholarship to the American Academy of Art in Chicago, Illinois where he refined his craft.  Known for his dramatic lighting and sensitivity to moods, Blackshear's work transcends culture, expressing the human experience with impeccable deft and originality.
Blackshear has been elected to the Society of Illustrators Hall of Fame artists recognizing his distinguished achievement in the art of illustration.  Artists are chosen based on their body of work and the impact it has made on the field of illustration.