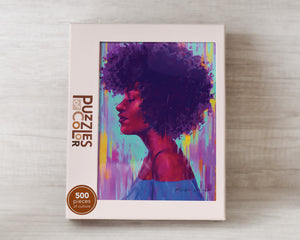 "Strength" Puzzle
Puzzles improve IQ. Puzzles increase dopamine. Puzzles are art that you make.  Puzzles decrease stress.  Chill...do a puzzle.
This work depicts the aloneness yet wholeness that comes from standing your ground and the strength within.
Art by Kaitlin Edwards
Pieces: 500
Puzzle Size: 16x20 in
Box Size: 10x8x2 in
NOTE:  Each puzzle comes with a black net that can hold your puzzle as you work on it or you can roll up the puzzle for safekeeping and frame it at a later date.
Made with 100% recyclable materials.