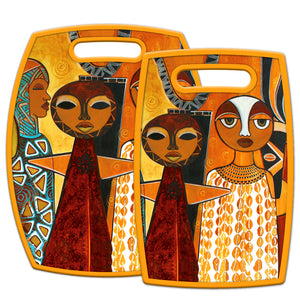 Windows 2 Africa Cutting Board (Set of 2)
Introducing Brand New Designer Cutting Board sets.  These Cutting Boards are sold in two, Large & Small, for various chopping needs. They are made from food grade polypropylene material, and are BPA free and non-porous. They have no chemical additives, and are odor and heat resistant.
The Cutting Boards are light weight with a nonslip grip. The easy grip handle makes it easy to cut, transport, and hang. The surface won't retain stains or odors for long-term use. Rear side is solid white for dual usage. Your kitchen workspace will be clean, well organized, and inspired!
Large is 14.75" x 12" and Small is 11.75" x 8" / Check out the Twisted Black Wire Stand - 4" - display it as a piece of art!